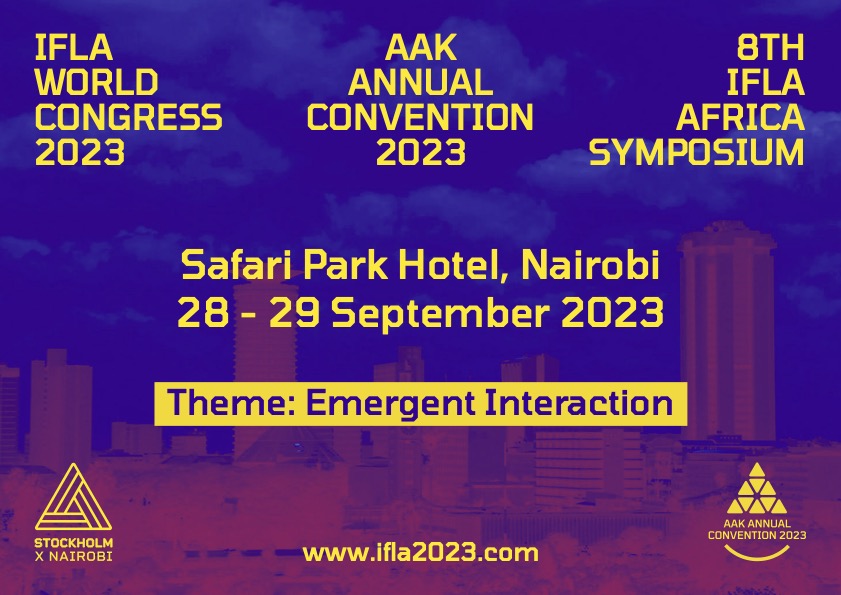 In Nairobi, the IFLA World Congress 2023 will be hosted alongside the AAK Annual convention and IFLA Africa Symposium – creating a unique opportunity for collaboration and networking.
Three days, three events – Welcome to Nairobi!
This Convention will bring together professionals from various fields, including Architects, Quantity Surveyors, Engineers, Construction Project Managers, Interior Designers, Town & Urban Planners, Environmental Design Consultants, researchers, stakeholders, and all others interested in creating a sustainable built environment. We aim to foster an inclusive and collaborative environment that encourages the exchange of ideas and best practices. Creating a meaningful impact on the development of the built environment, as we explore innovative ways to achieve sustainable and equitable development.
IFLA WORLD CONGRESS 2023
(BILATERAL EVENT STOCKHOLM X NAIROBI  / ONLINE)

With this year's theme: "Emergent Interaction", we aim to inspire innovative thinking and encourage collaboration across disciplines, driving progress towards a more sustainable and equitable world. To delve deeper into the theme we have lined up three sub-themes that will shape our discussions and explorations throughout the event.
– Leave no one behind; Inclusion and social justice are important dimensions in sustainable and equitable development.

– Act local, think global; the interdependencies between the local and global complex networks and how they are played out in practice.

– Beyond borders; approaches to environmental challenges across geographical zones, borders, professional disciplines and culture
IFLA AFRICA 8TH SYMPOSIUM, NAIROBI, KENYA
The 8th Regional Symposium will run concurrent with the IFLA World Congress jointly held between Kenya (AAK – LAAK) and Sweden. Delegates and participants will be able to engage with the activities associated with the World Congress and its theme Emergent Interaction.
The new IFLA Africa EXCO will be announced, and delegates will have the opportunity to contribute to the discussion around IFLA Africa's progress. We encourage all our African colleagues to join us on 28 September 2023 for the IFLA Africa Regional Council Meeting.
For enquiries, please contact:
info@ifla2023.com

sweden@ifla2023.com

kenya@ifla2023.com
The Urbanistica podcast talks IFLA23: